Leeds Wood Recycling furnishes Climate Innovation District footbridge
A new £1.5 million footbridge has been completed by sustainable urban developer Citu, linking Phases One and Two of their Climate Innovation District either side of the River Aire. When completed, the District will feature more than 800 low carbon homes including apartments and houses, alongside leisure, offices, public realm and green community spaces.
Leeds Wood Recycling is delighted to have provided seating and planters made from reused wood to decorate the bridge, alongside murals by local artist Emma Hardaker.
Labour MP Hilary Benn conducted the official ribbon cutting, joining the developer and residents in a ceremonial walk across the bridge. Speaking at the ceremony, Hilary Benn said:
"This is a bridge to the future. It's about building communities as it will connect residents in the new homes to the city centre and will encourage more people to walk over the river as the South Bank develops. It is a fantastic development and I want to say thank you to Citu for what you are doing as you are showing what is possible. We want more developers to build homes in this way, as this is how we are going to beat the threat of climate change in this country."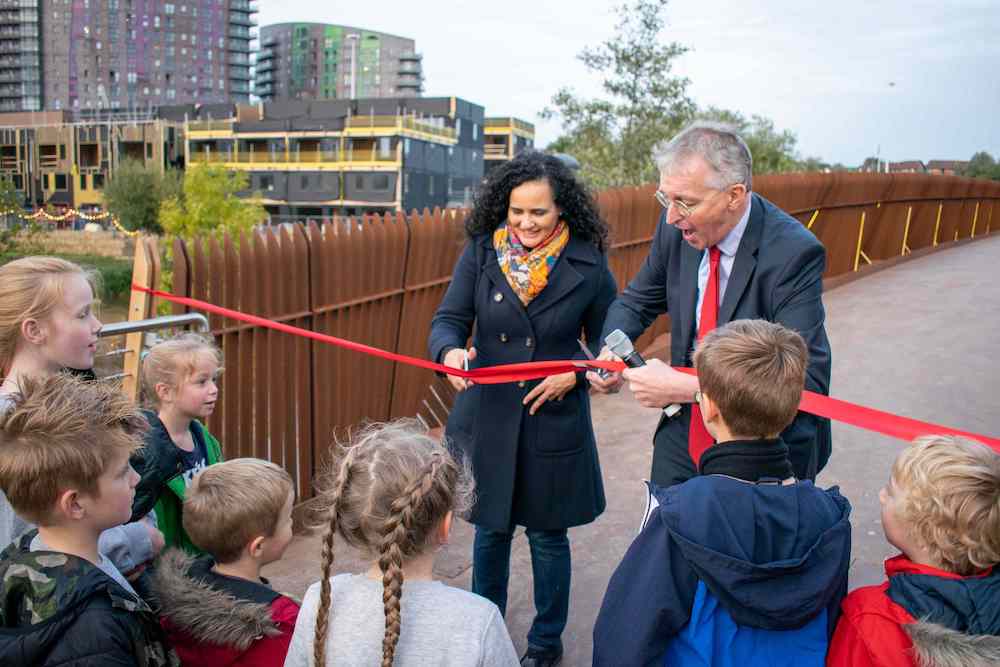 You can read more about the new bridge in the below article in South Leeds Life: